How to transfer Contacts from iPhone to Computer
Do you want to copy and backup the Contact in your iPhone to computer without any loss? It is easy if you transfer your iPhone contacts to computer following the steps below.
Step1: Download the Tansee iPhone Transfer free trail version, and then install it on your computer.
Step2:Connect your iPhone to Computer after the installation. All your iPhone information will be shown.
Step3: Run the iPhone Transfer Contact, the information stored in iPhone Contract will be shown to you automatically like in the following NO.1 picture.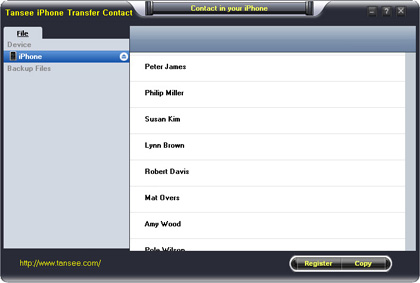 Step5: If you click one name such as "Peter James", you will get the information about him like the following No.2 picture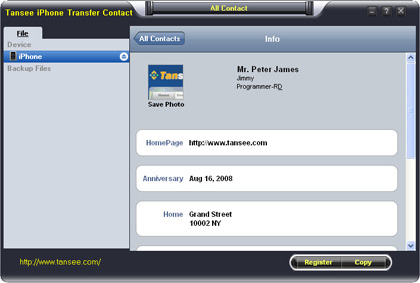 Step6: In NO.1 situation, you can click button "Copy" to copy all contacts from your iPhone to your computer , then select options: 1: Choose File Type: backup to TXT file, ANTC file or CSV file;
2: Choose File Path: You can change the backup path if you do not use default path.
3: Advanced Option: if you choose ANTC format in step 1, you can add a password to protect the file. Please note: We do not know the password, so please do remember it.
Tips: You can only copy the first 5 contacts in trail version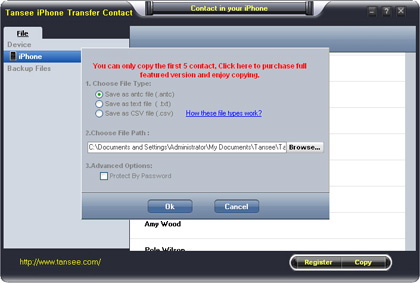 Step7: In NO.2 situation, click button "Copy Contact From who" to copy contact of a single person, select options: 1: Choose File Type: Backup contacts to TXT file, and CSV file in single contact transfer;
2: Choose File Path: You can change the backup path if you do not use default path;
3: Advanced Option: Disabled in single contact transfer.
Click OK Button to finish the Copy.
Tips: You can only copy the first 5 contacts in trail version. /images/tansee-iphone-transfer-contact/copy 2.jpg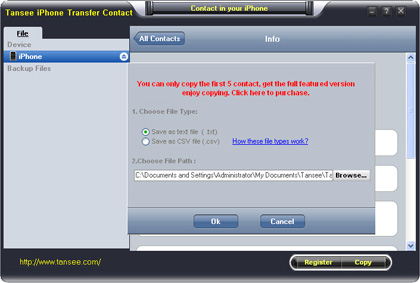 Top 10 Product
Top 10 Freeware