DVDFab Blu-ray Toolkit
20% off
Deal Price:

$116.00

You save:

$29.00

Coupon Code:

FAB-STT-OFF

OS Support:

Windows XP SP2, Vista, Windows 7, 64 Bit operations system Support

Size:

18.50MB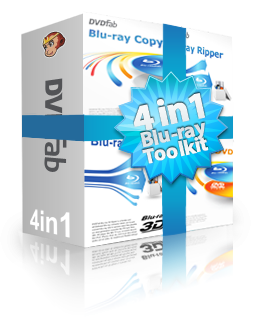 Shop Price: $145.00
Product Details
DVDFab Blu-ray Toolkit is a 3-in-1 Blu-ray software, which contain DVDFab Blu-ray Ripper, DVDFab Blu-ray 3D Ripper, DVDFab Blu-ray Copy and DVDFab Blu-ray to DVD Converter. Versatile with all functionalities of all DVDFab Blu-ray apps remained, yet money saving. So this software offer users ultimate Blu-ray solution to all kinds of Blu-ray copy/ripping/converting problems.
DVDFab Blu-ray Ripper
Rips any Blu-ray smoothly with no barrier from any protection into various video/audio formats compatible with specific mobile or play console, and the speed and quality are all outstanding.

>> Rip any Blu-ray
>> Rip Blu-ray to video/audio files
>> Multiple professional settings and options
DVDFab Blu-ray 3D Ripper
Blu-ray 3D Ripper rips any 3D Blu-ray movie from disc, folder, or image file to 3D video in AVI/MP4/MKV/WMV/M2TS/TS format which can be viewed on computer, specific 3D TV, etc.

>> 6 Blu-ray 3D ripping modes: to MKV, to AVI, to MP4, to WMV, to M2TS, to TS.
>> 3D format can be left/right(side-by-side) or top/bottom, and video frame size can be full (100%) or half (50%).
>> Output can also be 2 separate files as one for left eye, one for right eye.
DVDFab Blu-ray Copy
Copies full content or the longest title of a Blu-ray, clone Blu-ray in 1:1 ratio, burns Blu-ray folder and image file to disc, or converts Blu-ray folder to image file, all with no Blu-ray protection limit.

>> Clone/Burn/Decrypt/Copy any Blu-ray
>> Copy Blu-ray to any blank Blu-ray/DVD disc
>> 4 copy modes available: Full Disc, Main Movie, Clone, Write Data
DVDFab Blu-ray to DVD Converter
Blu-ray to DVD Converter can get rid of any Blu-ray protections to convert/copy any Blu-ray to DVD-Video disc in DVD format for playback on DVD Player with fast speed and high quality.

>> Decrypt any Blu-ray to freely access the content
>> Convert Blu-ray to DVD-Video disc independently without any help
>> Quickest speed and perfect output for Blu-ray to DVD conversion
Software requirements:
Windows NT4/2000/2003/XP and Windows Vista, Windows 7
Hardware requirements:
800MHz Intel or AMD CPU, or above, 512MB RAM or more
Popular Free FLV Software

Hottest Discount Products