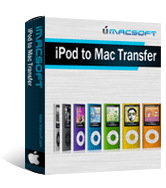 Price: $28.00
Get Wins Version:
iMacsoft iPod to Mac Transfer
iMacsoft iPod to Mac Transfer, designed for Mac possesses strong power to transfer music, videos, photos etc. from iPod to Mac with high transferring speed. This transferring software also supports copying music from iPod to iTunes, iPod to iPod, iPod to iPhone, iPhone to Mac and Mac to iPod without losing anything. It is possible to transfer files among several iPods at the same time by using "Drag-and-Drop".

You will be impressed by the quick speed of searching and filtting files of this iPod to Mac Transfer. And the with the help of this transferring software, you can manage your iPhone, iPad and iPod touch as portable hard disk, which is very useful whether in work or daily life.
Key Features
Transfer music from iPod to Mac
The main function of this iPod to Mac Transfer is to copy and rip music, video, photos, ePub, PDF, audiobook, TV show etc. from iPod to Mac. You can also transfer files from iPhone to Mac, iPod to iTunes and Mac to iPod quickly and directly.
Quick Searching Speed
It is amazing to experience the quick searching speed. You just need to type the names of the songs or any other files; the searching work will be done by the iPod to Mac Transfer within very short time.
Transfer Between iPod and iPhone
If you install the iTunes, it is easy to transfer music, videos and other files between iPod and iPhone directly.
Compatible with all iPod/iPhone/iPad Modes
iPod classic, iPod nano, iPod nano 5G, iPod nano 6G, iPod touch, iPod touch 4, iPhone, iPhone 3G, Phone 3GS, iPhone 4, iPad, iPad 2 are all supported.
New Playlists Functions
With iMacsoft iPod to Mac Transfer, you can create, edit, and delete playlists on iPod.
Software requirements:
Mac OS X v10.4 - 10.6
Hardware requirements:
512MB RAM, Super VGA(800*600) resolution, 16-bit graphics card or higher